The Sims 4 game comes with limitless exciting features that you can enjoy every day. One of the coolest features of the game is the Custom Content. The Sims 4 Custom content is specially modified files that allow you to have special items in the game. As the name suggests, these are a custom man-made file that can be anything. Installing custom content in your game can be a little bit confusing the first time. It requires caution and you need to place the modified files in the right directory. We have seen many players that their games were crashed after they used Custom content in their game. So we decided to make a separate post on How to install the sims 4 Mods in your game.
What is Sims 4 Mod?
Sims 4 mod is a modified version of custom content that allows you to have special items in the game. For instance, you like the new hairstyle of Rihanna and you want the same haircut in your sim. Now going to the CAS and creating exactly the same hair can be time-consuming and tricky. Instead, you can use photo editor software and import your file into the game. The Sims 4 community around the internet make tons of Custom Content every day. Its just one clicks away from you. When you've found your perfect custom content match, its time to change the looks of your Sim.
Before you get started, make sure your game is up to date with the latest patch. To check for update, go to your Origin application and in the Game Library, click on the settings tab. Then click on Sims 4 and Update Game button. This will automatically download and install the latest patch into your system.
How to turn on Mods in the game?
By default, the sims 4 mods option are disabled in the game. You have to manually enable it. To do this, Click on the Menu button, Game Options, Others and then check the "Enable Custom Content and Mods" box.
Note: You have to manually enable custom content after every latest patch update
Now download Custom Content Mods in your PC. We have a huge library of an amazing custom content mod, contributed by our sims community fans. Make sure to check these out too.
How to add mods in the Sims 4?
Extract the downloaded content into your PC. Now go to Documents> Electronic Arts> The Sims 4> Mods and place the files here. Now restart your game and you will see the modified files, as a pop-up menu.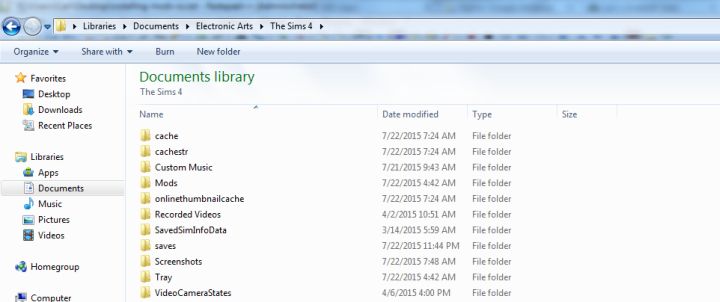 The Sims 4 mods are not working
There are a lot of players that face this problem, and it's normal. Follow the steps below for troubleshooting
Make sure your game is up to date
Enable Custom Content Mods in the game after every update
Enable Script Mods Allowed in the Game Options
Make sure to extract the downloaded files
Place the files in the right directory i.e, Documents\Electronic Arts\The Sims 4\Mods
Loots and Houses items go in different directory i.e, Documents\Electronic Arts\The Sims 4\Tray
Clear cache of the game