woohoo, sims 4 mods allow you to spend a pleasant time with your sims 4 characters. Your sim female can get pregnant with a couple of different percentage chances levels that you can set. This mod includes other options to speed or slow down the pregnancy process or have two or triplets babies.
There are a couple of different ways mentioned in this post you can try, the first one is to use the basic MC command center.
Download Woohoo Sims 4 Mods
Mod description: You need a computer in your household to make this mod work. You don't need to have a gaming or any other high-end pc, just a regular one will work. Select your household computer and press MC command center and you are gonna go down to MC woohoo, and from here you're going to click on woohoo pregnancy and risky woohoo percent. This allows you to add your custom woohoo percent level of getting pregnant.
Sims 4 Risky Woohoo Mod
Risky woohoo mod replaces the regular woohoo interaction not the try for baby interaction but just the regular interaction that you experience in your sims 4 games. To giving you a chance to actually getting pregnant without even wanting it.
I do believe that this mod incorporated into the super pregnancy mega mod is a great addition to any players in the game. You can literally get unexpected pregnancy and control that pregnancy or you could, unfortunately, terminate that pregnancy if you were not expecting to get pregnant.
I think it's kind of cool and random dynamic that gets thrown into your game. You get to control just even a little bit more what you were risk entails. This mod is easier to install then the rest of the mod, there are no pre or post requirements.
It's literally the easiest thing in the entire world you drag and drop it's like any other mod install. It's not a script mod or anything like that. Download and install the mod and hop into the game.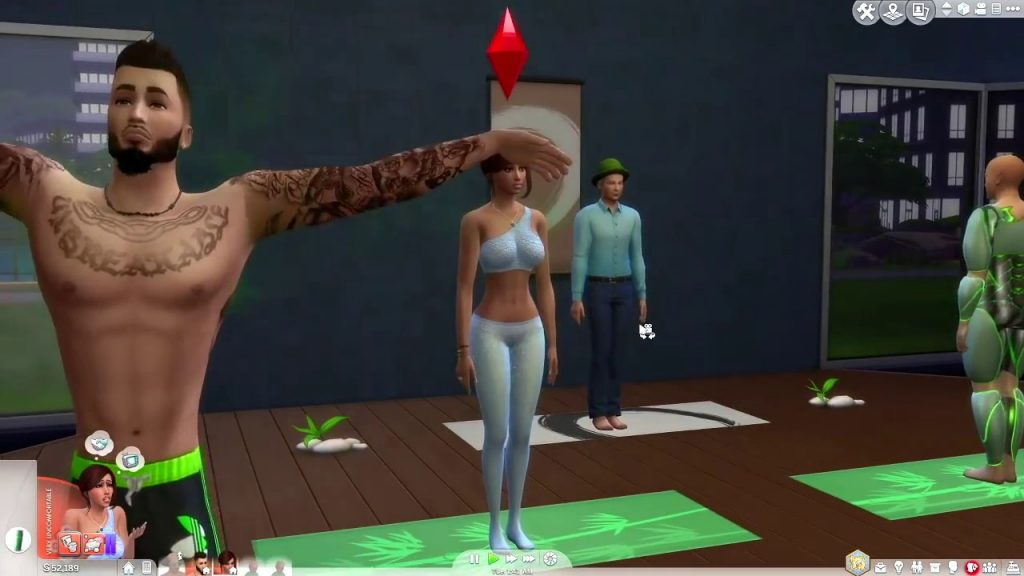 Once you are in your game just go and do a little woohoo in the sack. Go ahead and do a little romantic conversation with your Sims characters to engage them for a riskier woohoo. After you have done some romantic thing it's time for the woohoo stuff. Go ahead and click your bed and select woohoo with.
Now select your partner and let the game begins. Once they both have broken the candles go ahead and check your female sim character pregnancy test.
Congratulations your sim is eating for two and expecting someone in the household.
Download Sims 4 Risky Woohoo Mod
Mod Description:  Brings an element of risk to all woohoo.  Locations included are a rocket ship, bed, observatory, hot tub, tent, sauna,  bush, and closet.
The Sims 4 Wicked Woohoo Mod
The sims 4 is rated PG-13, so everything in the game comes with some sort of restrictions. For example, you can just woohoo on your bed, or sometimes a sofa, which sometimes kills the mood. The modding community of the sims 4, take this very seriously and provides us with the Wicked Woohoo mod. Just download and install this mod, and do woohoo anywhere in your house.
It comes with PG-18 animation, which just builds the mood even more. You will also receive some extra interactions with your partner. The wicked woohoo mod is presented by the Wicked Whims community, so you can compare it with any other 18+ animation. You can also use this with your MC woohoo mod.
Download Sims 4 Wicked Woohoo Mod
Sims 4 Woohoo Places
By installing this mod, you can do woohoo literally anywhere in your house. It can be any object that you see in your surroundings. You can woohoo on the sofa, table, chair, bathroom, and even on freak in windows(Don't know how's this possible). But remember, the most interaction is still on the bed and floor, so choose these locations.
Download Sims 4 Wicked Woohoo Places Mod
Sims 4 Shower Mod
As of now, there's no working shower mod available in the sims universe. There are some mods that you can find on the internet but they're all outdated and don't work with the new game patch. Still, there are multiple ways that you can use to have fun with your loved one in the shower. First of all, the sims 4 Discover University expansion pack allows you to do this without any cheat code or mod. The option appears when you've leveled your flirt interaction and have your first kiss with the other sim. Once done, you can invite the sim in your household and have fun while showering. For mods, you can use the wicked whims mod, naked mod, or Sims woohoo animation mod.
Sims 4 Shower Mod
Sims 4 Child Woohoo Mod
There are a couple of woohoo mods available for teen, married and cousins. Child first love mod is exactly the same except they would not have that pleasure of getting pregnant.
There's an aged script in Sims 4 which allows you to stay within limits for a specified task. Although you can use this mod as your first love, make them kiss or talk romantically, hold hands, go to dinner and do a bunch of other things.
Download Sims 4 first love mod
Sims 4 Woohoo Baby Interaction Hider
Whenever you romantically talk to a sim or flirt with them, the Woohoo interaction always pop up. This becomes really annoying because all of us not want woohoo all the time. This mod allows you to hide the woohoo interaction from the game. There are two options from which you can choose from.
Only hides woohoo (Try for baby interaction will be enabled)
Only hides Try for Baby (Woohoo interaction will be enabled)
Sims 4 Woohoo Baby Interaction Hider mod
Sims 4 First Love Mod Features:
Confess to having a Crush (one Time Interaction)
Hug
Exchange Numbers (one Time Interaction)
Call Crush
Text Crush
Ask to be Boyfriend/Girlfriend
Stargazing
Monkey around
Aging up to Teens
Hold Hands
Kiss cheek
The Sims 4 Risky Woohoo with Anyone Mod

We all know same-sex relationships are common in our society but what about the sims 4? Well, the previous versions of the Sims series supported same-sex relationships, but the procedure to pour your heart for the loved one is a lengthy task.
In TS4, this has become quite easy now. You can either use mods or directly fall in love with your fellow partner.
The Sims 4 Same-Sex Pregnancy Mod



This mod currently supports only In-house, bed interactions. Other risky woohoo spaces are not available as of now but will be available in the near future. Only one sim will get pregnant, either is a gay or lesbian relationship. This mod also comes with a pregnancy test feature for male sims.
Download Sims 4 Same Sex Pregnancy Mod
The Sims 4 Same-Sex Pregnancy CAS
If you don't like installation mod in your Sims 4 games, then you can always tweak the gender options in the CAS menu. There's an option available in the CAS menu that allows you to impregnate same-sex couples sims and have children of their own. Follow the method below to make this work.
Go to the dresser and select 'Change Sim'.
Go to the Custom Gender Settings.
Gay couples choose the 'Become Pregnant' option for any of your sim. Make sure the other sim has "Get others pregnant" options selected.
Lesbian couples choose 'Get other pregnant' options and make sure the other partner has selected the 'Become Pregnant' option.
This is it! Now go ahead and 'Try for Baby'.
The Sims 4 Woohoo Animation Mod
As a famous chips brand states: Life needs flavor, we all need flavors in our game too. There are some simmers(legends I must say) that want some extra animation in their Woohoo experience. Traditionally, you just go to bed, forward your bedsheets, and play a romantic sound and done.
But now, as the game evolves every month, the developers have decided to add some extra custom animation during the woohoo process. Now, this animation includes all kinds of steps that you watch on your incognito browser. It has that umm style from the back, and umm that style on the front, just forget it and play like yourself.
Just make sure you're mentally prepared.
Sims 4 Wicked Woohoo Animation Mod
The sims 4 Wicked Woohoo mod support third-person creator animation now. You can download these animation pack to remove the good old woohoo under bed and spice up the game. There are tons of new animation mod that we can't list here because of the advisory content.
Download Sims 4 Wicked Woohoo Animation Mod
Sims 4 Woohoo Mod FAQ's
Can Sims get Pregnant from WooHoo?
There are rare chances that you will get your partner pregnant by only doing WooHoo.
Where can you have WooHoo in Sims 4?
By default, the WooHoo is only available on the Bed, RocketShip, and observatory, but you can use Custom Mods to WooHoo in almost every place.
Can Teens Get Pregnant in the Sims 4?
By default this option is not available, you should be an adult sim to get pregnant.