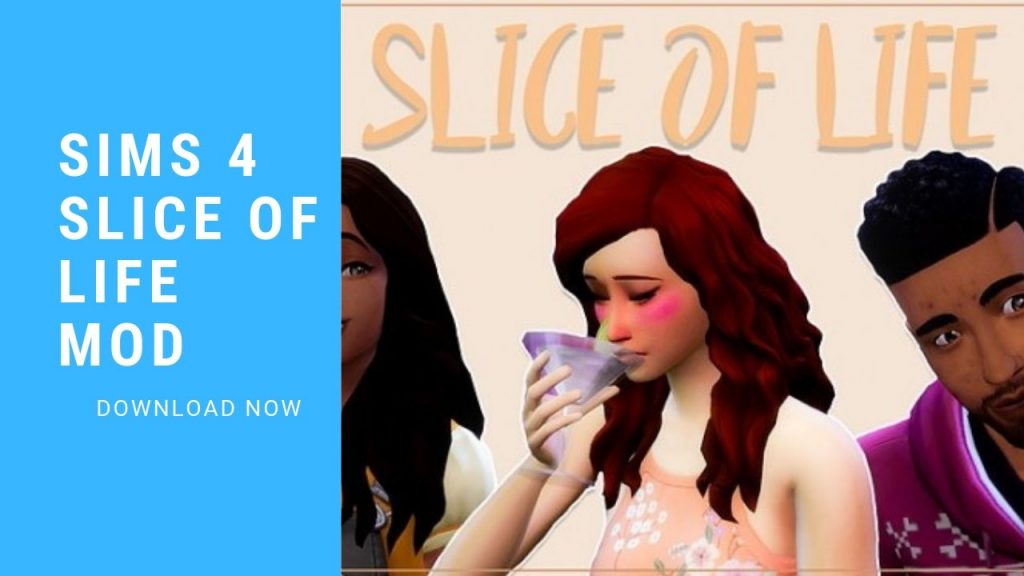 there are hundreds of mods that add realism in the sims 4. One of the key members of creating realistic mods is Kawaiistacie. These guys have created some of the best mod and custom content for the sims 4. One of the prime achievement of their work is the sims 4 slice of life mod. This one is considered as one of the best mod for realistic gameplay. This mod adds physical changes on your sim depending on their mod. It introduces new buffs and a cellphone menu which is similar to kawaiistacie social media mod! These features can be applied to every sim. This guide covers all the things that you require for using this mod.
How to Download Slice of Life Mod?
The downloading process is very simple, just click on the download button below and wait for it to complete.
Slice of Life Mod Sims 4 Download
Slice of Life Mod Sims 4 Download Link
How to install a Slice of Life Mod?
Once you have downloaded the file in your PC, extract it using any extraction tool. Now copy all the content of the files and paste it into the Mod folder of the game. The default directory is Documents > Electronic Arts > The Sims 4 > Mods.
If you don't like the extra features of this mod like memory system or social system. You can delete it. Just make sure you don't delete the "KS – SOL Main System.package" file because it is important for this mod.
The Sims 4 Slice of Life mod description
Here a detail description of what this mod can do that can help your game looks more realistic.
Slice of Life Emotions
The main focus of this mod is to change the appearance of a sim. When you feel flirty or embarrassed your face will blush, Your sim will have season acne and much more. New emotions include: Relaxed, Insecure, Depressed, Attractive, Ambitious, Loved and Annoyed.
Slice of Life Talents
In actual life, you try something and if you're good at it, you call this is your talent. Same things applied to this mod. Your sim will try multiple things and if they feel good at it, they will select it as a talent. Once your sim has selected a specified talent, their skills level will increase by 5x. Also, you can use these skills as a money-making habit.
Slice of Life Preference
Your sim will discover its preferences by interacting with other sims or watching Tv/movies. Turning on your preference will increase the chances of a relationship with a specified sim. If you turn it off, then it is difficult to build a relationship.
Slice of Life Menstrual Cycle
The menstrual cycle is the official name of periods in the sims 4. In this case, you will get a buff that your sim is on periods. The cycle will last for 6 sim days and come back after 12 days. In case you don't want periods in the game, just delete the package file.
Slice of Life Sickness System
With the help of "get to work" expansion pack, this mod adds a new sickness mod in the game. Your sim will be able to get a stomach ache, colds, Woohoo diseases, ear infection, Allergies, and Flu. It also shows animation when your sim is sick and wants attention.
Slice of Life Phone Apps
There are multiple phone apps introduced in this game like My first language, Mall Tycoon, Fishing Simulator, Lets Draw, Homework Helper, and Love Tester. These apps can be found on your sim mobile application.
Slice of Life Memory System
With the new update of a slice of life mod, your sim will now remember everything that happens to them. These memories will fade with time. Some of these memories are marriage, divorce, the first kiss, first woohoo, death, breakups, children, and much more.
There are tons of other great features that this mod offers. We recommend you guys to try them out yourself.